Children's Chapel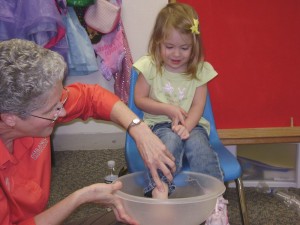 At Sanlando Christian School, Christian values are interwoven into the fabric of the curriculum and taught by staff members that are active in their faith. There is a school-wide Bible curriculum with monthly Bible Points, prayers, Bible verses, songs, finger plays, and stories that are integrated into the classroom Gathering Time on a daily basis.
Each week, the children join their class at weekly Chapel lead by a Bible teacher in the church narthex. It is a time of singing, praying, and learning about the truths and characters in God's word. One morning each month, parents and children gather for Family Chapel in the church sanctuary for a time of age-appropriate praise and worship. Sanlando Christian School is a place where God's children learn to walk and grow in Him!
For more details, click here: Children's Chapel Curriculum
Music and Movement
On a weekly basis, the children get to dance, sing, and play in Music and Movement.  This is a time to reinforce Positive Behavior Support and show love of God through song.  It is also a fun atmosphere to get moving!