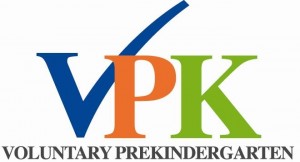 VPK (Voluntary Pre-Kindergarten) is a free program available to all four-year-olds who reside in the State of Florida.  Sanlando Christian School has offered a quality VPK program since 2006.
Sanlando Christian School is blessed to have committed, professional and caring staff members who are educated and trained in Early Childhood Education.  Low teacher/child ratios are provided to ensure that each child's needs are met.  VPK hours are from 9:00 am until 1:00 pm, Monday through Thursday.
A VPK Advantage program is also offered for those families interested in a longer day.  Chapel, Music & Movement, Bikes and Outdoor Center time are offered during this additional hour from 1:00 until 2:00 pm, Monday through Thursday, as well as an extra half day, 9:00 am until 12:00 noon, at the end of the school year.  A registration fee, materials fee, and a wrap-around tuition fee are required for participation in this program.  Please contact the school office for more information.